Landmark's dimly lit brick room is packed with around 70 people, most waiting at the bar with a drink in hand for the "Drag Me to Landmark: Cartoon Queens" show to begin.

Various songs, ranging from "September" by Earth, Wind and Fire to Bruno Mars's "Uptown Funk," play while the audience waits. Rows of chairs fill the center of the room, with the first three rows occupied while the rest remain empty. Drag Me To Landmark organizes drag shows at Landmark Americana, a bar in Glassboro. According to one of the staff members, it's a slower night than usual.


Hostess Ophelia Hotass gave the night's first performance as Elsa from Frozen, "Let it Go." The next performer, Vinchelle, danced as Winnie the Pooh to "Honey" by Mariah Carey, transitioning seamlessly to "PURE/HONEY" from Beyoncé's newest album RENAISSANCE. The audience erupted in screams and applause.


Drag shows like this are a staple in New Jersey's LGBTQ+ scene.
While New Jersey officials have prioritized the LGBTQ+ community by enacting a marriage equality law, making the name change process confidential, and establishing an LGBTQ-inclusive curriculum, LGBTQ rights are under attack in many Republican-leaning states. There are also efforts by members of the New Jersey GOP to roll back protections in New Jersey, particularly for transgender people.
According to Reuters, Tennessee recently passed a bill restricting drag shows in front of children and in public. In addition, the  American Civil Liberties Union (ACLU) reports a "record number of bills that attack LGBTQ rights, especially transgender youth" across the US. The ACLU tracks these bills and works with its "national network of affiliates to support LGBTQ people everywhere." There are 272 anti-LGBTQ bills in the US. Although no bills directly affect drag performances in New Jersey, there are three that could impact the community at large. 
One of the bills, introduced in September 2022, aims to stop transgender minors from receiving hormone-blocking medications, estrogen, testosterone, or any transitioning surgeries. Violators would face a third-degree crime charge, 3-5 years in prison, a $15,000 fine, or all three.
We asked a few transgender New Jerseyans for their reactions.
"Hormone blockers can save a lot of pain, dysphoria, and mental health issues," said Shiloh Vasko, a 25-year-old transgender man. "It saves lives."
Vasko has been transitioning since 2014, when he was 16, and began hormone replacement therapy in 2015.
Tahtiana Fermin, a 40-year-old transgender woman, founder of Bridges4Life, and member of The National LGBTQ Workers Center's NYC chapter agrees that hormone blockers can help trans minors. 
Another bill, introduced last January, affects transgender students that play sports. It states that sports teams should be separated by men and women based on biological sex for "fairness." Civil actions can be taken two years after "the harm" occurs.
A third piece of legislation, also introduced last January, aims to provide parents or guardians with a voucher that covers 75% of private school tuition if they find that the material or activity from a public school is "harmful" to their child, including materials that "violates or conflicts" with the parent or guardian's "belief or practice regarding sex, sexuality, sexual orientation, gender identity or expression, conscience, ethics, morality, or religion."
It's unlikely New Jersey lawmakers will move on the aforementioned pieces of legislation due to the Legislature's strong Democratic majority. Still, Vasko and Fermin were surprised the bills were introduced. 

"It hurts kids more than it helps them. With these kinds of [bills], people are just trying to find something to be angry about," said Vasko. "They're scared of what they don't know, so they want to keep it in the dark." 

Fermin began transitioning in secret when she was 13 and came out when she was 18.

"I felt I was living in my truth," Fermin said. "The transition for me was very easy because the community helped me growing up."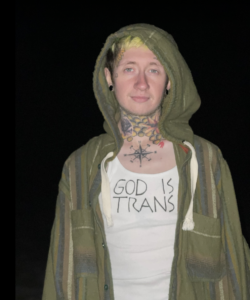 A photo of Shiloh Vasko (Courtesy: Shiloh Vasko)
"They're scared of what they don't know, so they want to keep it in the dark." Vasko added, "People are never going to stop being trans. People are never going to stop being gay."
This story was produced as part of the Center for Cooperative Media at Montclair State University's South Jersey Information Equity Project fellowship and supported with funding from the Independence Public Media Foundation.