What's the move New Jersey? Black in Jersey has you covered with what's happening this week.
Thursday, Oct. 27
New Jersey General Assembly Voting Session: The New Jersey General Assembly is the state Legislature's lower house. Along with the Senate, it creates laws that impact people in the state. The General Assembly will vote on several bills, including a package updating concealed carry laws and creating handgun-free zones. The voting session starts at 1 p.m. at the Statehouse in Trenton. You can watch online here.
Black Cannabis' Spook or Spliff: Black Cannabis is a Trenton-based company that provides a platform for people of color, women, veterans, and the LGBTQ community to have a voice and learn about the cannabis industry. Spook or Spliff is a 420-friendly Halloween-themed event featuring vendors, performers, and more. It kicks off at 7 p.m. at Hub 13 in Trenton. Tickets are $10 at the door.
Friday, Oct. 28 
EBAN Artists Talk: Watu Moja is a Camden nonprofit that leverages art as a vehicle for community change. This fall, the organization hosted an art gallery at Camden Fireworks titled "EBAN: An Authentic View Of Place Through the Eyes of Dynamic Camden Creators." It featured the work of 12 incredible local artists. Watu Moja will host a closing ceremony at Camden Fireworks at 5:30 p.m., featuring a Q & A session with the creators.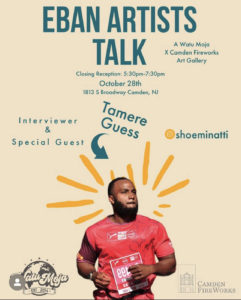 Newark Men's Meeting: Newark Mayor Ras Baraka's monthly meeting will take place at Central High School at 6 p.m. Committee topics include civic engagement, small business, procurement, property, and development. People are encouraged to sign up. 
Saturday, Oct. 29 
The Night Lives Through You – Art Exhibition and Listening Event: This event triples as an album-listening session for South Jersey artist Christian Skydeck, a music festival, and a vendor marketplace. Performers include Myles Cream, Jovon Saint Cloud, Dangr, Destiny Karizma, and more. "The Night Lives Through You" is free and takes place at Nick Virgilio's Writer House in Camden at 6 p.m.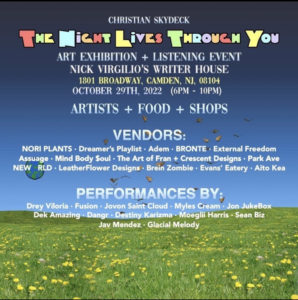 Seeds of Sisterhood Fundraising Brunch: Melinated Moms will host its annual fundraising brunch beginning at 10:30 a.m. The company is a women empowerment company supporting moms and women to become better versions of themselves through advocacy, education, awareness, and entrepreneurship. Tickets to attend in person are sold out, but virtual tickets are still available. 
Spooky Szn At Montclair Brewery: Montclair Brewery is one of few Black-owned breweries in New Jersey. It regularly hosts community events, including a costume contest and dance party celebrating Halloween. It kicks off at 7 p.m. at Montclair Brewery. 
Plantivia Wellness' Halloween Movie Night: Plantivia Wellness is a Black-owned cannabis company in Downtown Newark. The company will screen Jordan Peele's acclaimed science-fiction horror film "Nope" at 6:30 p.m. at their Halsey Street location. Tickets are $25.
Sunday, Oct. 30
Community Meal Sunday: Tha Block Trenton will host a free community meal at noon at Hub 13 in Trenton. The nonprofit organization will serve chili and cornbread and is accepting donations. 
[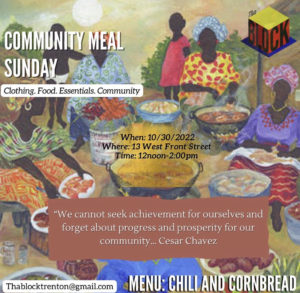 Halloween Haunted House Party: Silk City Rich Grounds, a community event and coworking space in Paterson, will host a haunted house. Kids can get in free from 2 to 6 p.m., followed by an adult-only mixer for people ages 21 and up. Tickets are $15. Silk City Rich Grounds is located at 121 Ellison Street in Paterson.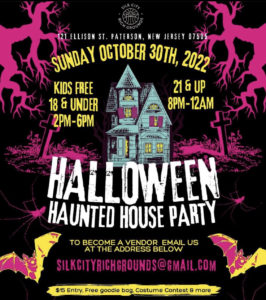 The Shatara Hour Comedy Special: First Republic Lounge, Elizabeth's premier Haitian American restaurant, will host a night of laughs featuring comedian and actress Shatara Curry. The event is a live taping for an upcoming comedy special. Curry has appeared on MSNBC, TruTV, Fox 5, and more. The event begins at 7 p.m., and tickets cost $20
Want us to feature your event? Send us an email at info@blackinjersey.com.