Yocontalie Jackson and Morgan Lloyd light up when discussing their passion for local history and curative storytelling. 
The Camden natives are storytelling fellows for "Stories Invincible," one of the Center For Cooperative Media at Montclair State University's latest initiatives, supporting restorative narrative reporting by and for communities of color in South Jersey.
Born decades apart, their work highlights the importance of intergenerational storytelling in a city intent on rebranding itself. 
For decades, outsiders have painted Camden's reputation by the numbers.
In the eyes of many longtime residents, mainstream media only seem to focus on the city's staggering poverty rates and crime ( the latter has declined in recent years). 
Some, like Jackson, say the region once had a penchant for dehumanizing local newspaper coverage. She points to an article from 1971 portraying Black kids visiting a pool in a predominately white neighborhood as invaders.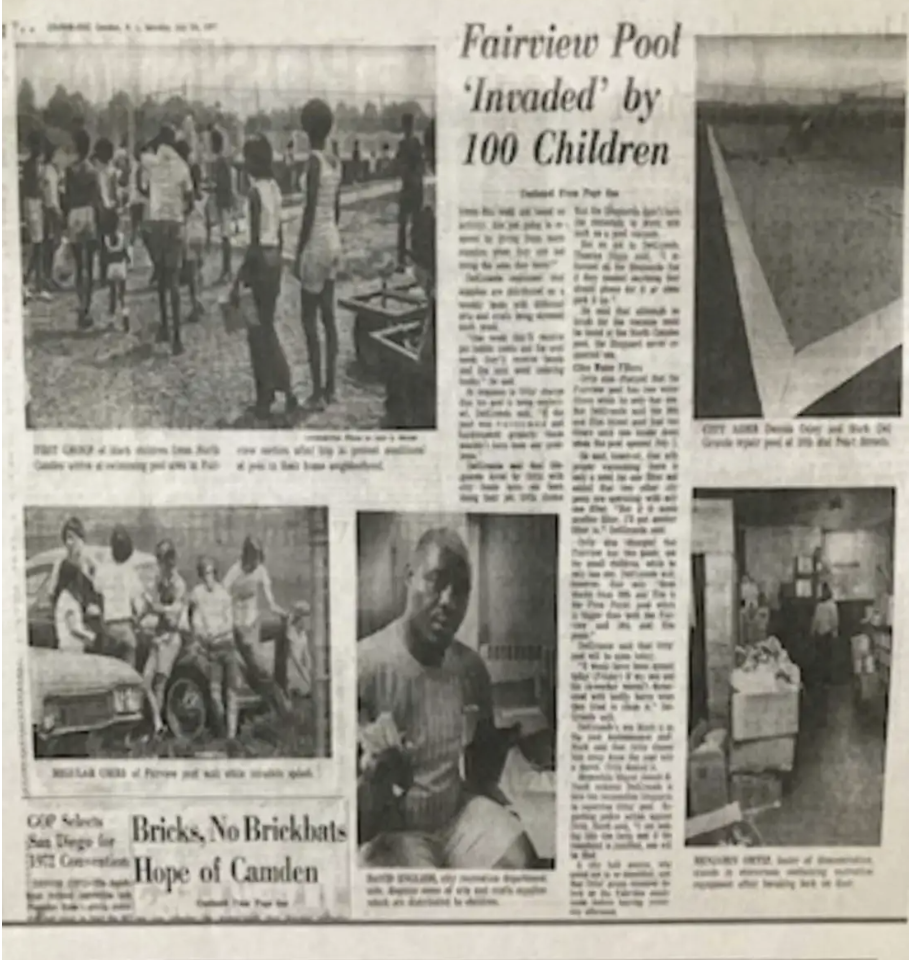 As locals hope to reclaim Camden's narrative, knowing how the past shaped the present moment is essential.
We interviewed Jackson and Lloyd about their fellowship projects and the creative ways they hope to expose young people to a more nuanced perspective on Camden's history. 
Hear more about their research, alongside the findings of their fellow storytelling fellows at our closing ceremony Thursday, February 23 in Camden County College's Riletta Twyne Cream Learning Theater.
Can you both describe each of your projects?
Yocontalie Jackson: My project ("Camden: 1960s And Beyond") deals with the Civil Rights era and compares it to what's happening today.  The exhibit will be at the Camden County Historical Society in Parkside at 1900 Park Boulevard. It will be on the first floor, and I cleared out that area and plan to post articles about some of the things that happened during the Civil Rights era in Camden, bringing it forward to current things like the Black Lives Matter march that took place at City Hall. I have a lot of photos and a lot of information documenting a lot of those things. I want to have an opportunity for people to dialogue, understand and see what we were fighting for back during that time. And what we need to look at today, moving forward
Morgan Lloyd: I am obsessed with history. My family has been in Camden for a very long time. I specialize in antebellum history, particularly in Philadelphia. The root of "Finding Fettersville" is to try and show folks that live in Camden — as if it's a surprise — and mainly for folks that live outside of Camden that "Camden Strong" is not a new concept in the slightest.  I want to highlight Macedonia AME Church which is still around today, thriving and kicking. I don't know if enough people know about this, but there was a gentleman who freed himself from the (slave) auction block in Philadelphia. He went to the city of Camden and ran to Macedonia because he knew it was an underground railroad spot and bounty hunters were chasing him. And the congregation of Macedonia stepped out and defended this man, quite literally, with physical violence. And it is a beautiful idea to imagine that Camden's population has been so strong for so long. I want people to learn about these cool, surprising facts in the same way that I did. I plan to create a museum without walls scattered throughout the city — uplifting people of Black or brown, Indigenous, and Asian identities.  
How do you hope to inspire people to take action? 
M. L.: It's mainly rooted in helping folks living in Camden and the greater Camden area take ownership of the history here. I spend a lot of work on this project and, in my personal life, trying to show people that the lives of our ancestors are far more beautiful and nuanced than what our textbooks often tell us. For instance,  Burlington County had a gradual abolition act. Camden, New Jersey was free within the first few years of us being a country! That can immediately help Black folk who have lived in Camden for generations reimagine their family story. I feel like some people just need to hear that they came from strong people, not just in the more contemporary context, but Black people in our area have always been unstoppable, unshakable, and very confident in who they are and what they could achieve in life, despite whatever adversity came against them. Camden also has a very interesting, rich Latino history and a beautiful Indigenous legacy. If you hang out on the Battleship New Jersey, I recently realized that there's a Filipino history here as well, which is cool, and no one discusses that enough.
Y.J.:  It's all about education and about our people truly understanding our city's history, knowing where we've come from, and understanding that there's a fight that has been going on for a long time in terms of where we came from and where we are going. A lot of young people in our city really don't know the history. So, part of this exhibit is allowing them to understand and have a dialogue about it. The exhibit is at the Historical Society at Pomona Hall, where the Coopers owned 400 acres in Camden. And they owned slaves. And I feel everybody in the city of Camden should have at least 10 acres that the Coopers owe us. My project is definitely about educating our young people and getting those young people from the various schools in the neighborhood to come and see the exhibit and have some workshops and conversations. They go to Philadelphia, Washington, DC, New York, and all these other places. This is right here in the city. And they can make a day out of it, bring their lunch, and see some things that they haven't seen or are unfamiliar with.
Why do you think it's essential for people in the communities to reclaim and retell their history?
Y.J.: My godson teaches hip-hop music and culture at Rowan University. He told me about this professor at another college who asked her (predominantly White) class if there was anybody in the classroom who would want to change who they are and live a day that one day as a Black person. None raised their hand to say they would. Even they recognize that as a Black person, there are things that we have to deal with every single day that others don't.  There has to be an opportunity and a time when there can be a conversation with individuals in that room–the White, Black, and Hispanic individuals in that room. It could be real talk.
M.L.: The moment I found out Harriet Tubman was walking around (in Camden), that changed my whole perspective of how I grew up. My great, great, great, great grandmother was walking around at that time and she might have been on the same street! That's not something that I could have known unless I (done the research) and added it to my collective memory. Even for folks who just migrated into the area, there's still something powerful to know that maybe the building down the street, or the block around the corner had something significant happen, or just have a large black population since day one. As all this gentrification stuff is happening, the roots have always been deeply rooted and it's nice to dig into the ground and see that they're still growing. There's power to that, so that's my main thing. I think it is powerful for folks to find their history, find their heroes–those local heroes, (because frankly Camden has a lot) and add it to their memory because their marching orders have already been set.
How can folks living today preserve their history and ensure their stories will remain for future generation?
M.L.:  I'm a big fan of it never happened if it wasn't photographed. We have to preserve these images and when we preserve these images, I need physical copies. I gotta hand it out to somebody one day. For all I know, technology will advance and my great great grandkids will not know how to tap into my cell phone. Beyond that, I think just documenting everything. Just writing things down, writing down our thoughts where we are, and making sure that we also have things that can go into the archives is essential. I love looking back at what people took note of, knowing that holding onto these papers meant that we were here. That still holds true to this day.
Y.J:. I agree, documentation and photographs. I always think about this scripture that says, "people perish for lack of knowledge." I remember when the Aquarium first opened and they were talking about hiring local residents. They didn't hire any local residents and certainly absolutely not of color. When we got the word, Black folk got together. That day when they said they were going to open up, we actually marched down there. I took my daughter (who was maybe about five years old at the time. It was cold as all out back and she was shivering, but I explained to her the importance of why we were doing what we were doing. After we did that they then started hiring minorities and local residents at the aquarium. When my daughter was old enough, she had a job working at the aquarium. So we have to, as parents, make sure that we educate our children, make sure that we bring our children out, involve them in the things that we're doing and allow them to know the history and hear from us–hearing it from individuals who are from Camden or part of the protests, who actually affected change. They can talk about how they affected change and what kind of things need to happen as we as we move forward but the involving our children, our young people in these processes is critical. 
Reet Starwind is the Stories Invincible project coordinator for the Center for Cooperative Media at Montclair State University. He is an artist, educator, and organizer in the Camden area working with the Center to elevate restorative narratives about Camden's residents and history. Contact Reet via email at reet@storiesinvincible.org or on Instagram at @mrstarwind.
This story was produced as part of the Center for Cooperative Media at Montclair State University's "Stories Invincible" fellowship. The Center is a grant-funded program of the School of Communication and Media at Montclair State University. Its mission is to grow and strengthen local journalism, and in doing so serve New Jersey residents. The Center is supported with funding from Montclair State University, the Geraldine R. Dodge Foundation, Democracy Fund, the New Jersey Local News Lab (a partnership of the Geraldine R. Dodge Foundation, Democracy Fund, and Community Foundation of New Jersey), and the Abrams Foundation. For more information, visit centerforcooperativemedia.org.