Looking for a way to celebrate Kwanzaa in New Jersey?
Check out our guide to festivities in the Garden State.
A brief history of Kwanzaa in the U.S. and New Jersey
People began celebrating Kwanzaa in the 1960s amidst a backdrop of Black revolutionary thought and racial tension that mirrors modern times.
The week-long observance, beginning on Dec. 26, celebrates family, culture, and community. And it's a mainstay in communities like Newark and Camden.
"Kwanzaa" comes from the Swahili phrase "matunda ya kwanza," which means "first fruits" and the season of harvest on the African continent.
According to History, Maulana Karenga, chair of Africana Studies at California State University, Long Beach, designed the holiday in 1966, following a summer of deadly riots in Los Angeles the year before, known by many as the Watts Rebellion.
Chaos broke out in the city's Watts section following a violent traffic stop involving local police officers and a Black family. The clash lasted a few days, and its destruction covered a 50-mile radius. Nearly three dozen people died, 1000 people were injured, and police made 4,000 arrests.
Karenga, a Black activist, and scholar wanted to empower his community — folks coming to grips with the aftermath of the so-called rebellion, many of whom lived through the civil rights and Black freedom movements.
"[There was] a collection of folks that worked on that, including Dr. Karenga…that brought Kwanzaa together," said Akil Khalfani, director of the Africana Institute at Essex County College in Newark.
Amiri Baraka, the late writer and activist from Brick City, an enduring voice in Newark's struggle for freedom, helped bring Kwanzaa and Karenga's Kawaida philosophy to the East Coast, according to Khalfani.
"Baraka was definitely a major spark for the growth of Kwanzaa as it emerged as a young holiday in the '60s and '70s," he said.
Karenga described Kawaida as a "self-consciously Afrocentric" philosophy. It fueled the Black Power movement, and its seven core values guide each day of the week-long Kwanzaa celebration.
Each candle in the kinara represents one of Kwanzaa's seven principles: Umoja (unity), Kujichagulia (self-determination), Ujima (collective work and responsibility), Ujamaa (cooperative economics), Nia (purpose), Kuumba (creativity), Imani (faith).
Many observers try to live out these principles daily.
Here is a list of Kwanzaa celebrations in New Jersey.
Holiday Jazz Cocktail
The Greater Trenton Branch of the New Jersey NAACP will celebrate the first day of Kwanzaa with live music and food from locally-owned Black vendors. It takes place at the Trenton War Memorial and kicks off at 3 p.m on Dec. 26.
According to the event listing, tickets cost $55, and proceeds will go towards local education initiatives.
1180 Kwanzaa: Umoja Celebration
Hosted at 1180 Studio in Elizabeth, this celebration begins at 2 p.m. on Dec 26. and will feature candle lighting, food, drums, libations, and a book giveaway for kids.
Organizers ask attendees to contribute to the feast or bring an unwrapped gift.
For more information, click here.
Pop Up Next Door's Kwanzaa Celebration
This free event celebrates Black life and African culture. It starts at noon on Dec. 26 at 1169 Elizabeth Avenue in Elizabeth.
DJ Skelly will provide music, and more than 15 Black-owned businesses will attend.
Virtual Kwanzaa hosted by New Brunswick organizations
The New Brunswick Area NAACP will host a virtual Kwanzaa celebration in collaboration with Crossroads Theatre Company, the Rutgers African-American Alumni Alliance, and the Arts Institute of Middlesex County.
This event will include spoken word, music, and instruction on the seven principles of Kwanzaa. Universal African Drumming and Ensemble will provide a feature performance.
It all goes down on Dec. 29 at 5:30 p.m. on Zoom.
Annual Kwanzaa Celebration in Camden

The KROC Center in Camden will host its annual Kwanzaa celebration on Dec. 27, starting at 5 p.m.
It kicks off with a candle lighting ceremony and highlights local dancers, poets, artists, and musicians.
Local vendors will set up a holiday marketplace.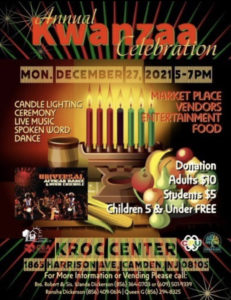 According to the event flyer, organizers ask adults to donate $10 for entry into the event, and students are encouraged to donate $5. Children under five are free. 
Tennyson Donyea can be reached at tennyson@blackinjersey.com.